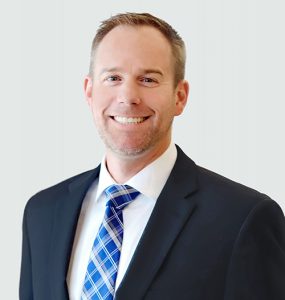 I was born and raised in Southern California.  After graduating high school there, I joined the U.S. Air Force for an opportunity to serve my country and travel the world. It was during this time that I married my high school sweetheart, Rebecca and we had the fortunate opportunity to live in Europe for several years and start our family.
After my active-duty commitment was completed, I attended Boise State University. This was our first experience living in Idaho and we instantly fell in love with the community and what Idaho had to offer. After graduation, I attended Case Western School of Dental Medicine in Cleveland, Ohio where I was recognized for excellence in prosthodontics and esthetic dentistry. It was here that my passion for solving complex dental situations grew.  I then made the decision to rejoin the U.S. Air Force and applied for a prosthodontic residency.
Immediately following graduation, we moved to sunny San Antonio, Texas where I attended the U.S. Air Force's prestigious advanced prosthodontic residency at the historic Wilford Hall Medical Center. Concurrently, I attended the University of Texas Health Science Center to pursue my Master of Science degree in Biomedical Sciences. After graduation, I joined the Advanced Education in General Dentistry Residency in Omaha, Nebraska as a prosthodontic staff member where I trained new dentists on advanced restorative techniques. I then earned my board certification and became the only board-certified prosthodontist in Idaho.
In 2016, after more than 13 years of service in the Air Force, I was able to fulfill my dream of returning to the Treasure Valley and join forces with Dr. Gurney and the incredible Boise Prosthodontics team.
As a prosthodontist, I am a trained engineer of the mouth.  An engineer designs, builds, and maintains machines and structures to aid in people's everyday lives. They have innovative visions, articulate their designs, and construct their creations with the most advanced and up-to-date materials so the finished product is fully functioning and beautifully artistic.  As a Prosthodontist, I have the same approach.  I can fabricate and design dental implant restorations, dental crowns, dentures, and other complex restorations with precision. My goal is to build you a new smile with perfect functionality, improving your speech and esthetics.
When composing a solution to your dental problems, I will meet with you, learn about your expectations, give you a thorough exam, discover the areas that need assistance, formulate a comprehensive treatment plan to solve your dental needs, and restore your smile to the function and appearance you desire and deserve.
Regardless of how complicated your case may be, my experienced team at Boise Prosthodontics and I cannot wait to design, build, and maintain a dental restoration that will give you the aesthetically pleasing and perfectly functional smile you've always dreamed of.
When not at work, I can be found spending time hiking, camping, and exploring with my wife and kids and enjoying the beautiful scenery that Idaho has to offer.  I also enjoy watching movies, playing basketball, and running.