"Teeth in A Day" or All-on-4 is an immediate solution for complete lower or upper tooth replacement that is as close to natural teeth as is available today.
With as little as four dental implants per arch, we can place a full set of teeth that will immediately function like natural teeth.
With All-on-4, your chewing ability goes from about 10% with dentures and about 35% with snap-in dentures, to up to 95% of your normal chewing capability. Which for most patients means being able to eat whatever they want.
How All-on-4 Works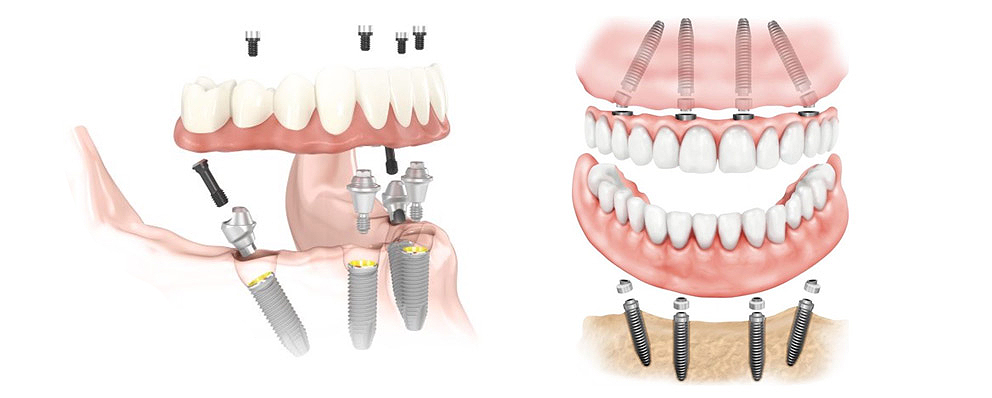 You can use your new teeth right away, taking a little time for the implants to heal before you chew into hard foods. All-on-4 uses dental implant technology to place titanium implants into the jawbone. Temporary teeth that will look very similar to your final replacement teeth are immediately attached to the implants making it virtually impossible for your new teeth to slip, shift, come loose or fall out.
Consultation and 3D scan
Dr. Gurney or Dr. Jones will meet with you to discuss your goals for your mouth, review your dental and medical history and do an oral exam. We'll also do a 3D scan of your jaw, teeth and gums using our 3D cone beam CBCT scanner to get a full view of your mouth. This scan is very valuable as it shows us the quality and size of your bone as well as sees potential issues that will need to be dealt with before your treatment.
After your consultation and exam, you will return to our office to go over solutions for various treatment plans so that you are completely educated on your situation, know all of your options and how to move forward with treatment and costs.
Preparation of your temporary teeth
As your dental implants will need time to heal before placing your permanent new teeth, you will be given temporary dentures the day of the implant surgery.  These are beautiful, fully functional and are immediately usable.
Preparing for the surgery
We use the 3D scans and impression models to prepare for your surgery. We plan ahead of time the exact location and angle of the implant needed to take advantage of the bone available. This means we may be able to avoid bone grafting.  You will be referred to an oral surgeon that we trust for a consultation of your surgical needs in order to get ready for your treatment.
We make a surgical guide to help the surgeon guide the implants into position with minimal impact on the gum and bone, making the procedure minimally invasive, and your post-treatment discomfort minimal.  And most important, greatly improves the outcome of your procedure and greatly reduces complications.
Minimally invasive surgery
Due to the thorough pre-planning and the use of the surgical guide, your implant surgery is a relatively fast procedure requiring no extra cutting or suturing. We can usually put four implants on the bottom arch, and four to six on the top arch. How many we put in depends upon the density of the bone and how much bone is available.
If we need to extract any teeth, this is done in the same visit. As the procedure is lengthy, patients can opt to have oral or IV sedation for full relaxation.
We place your temporary dentures on the implants, so you have fully functional teeth when you leave.
Permanent replacement teeth
You will continue to wear your temporary teeth for approximately 6 months while you heal, and adjustments and esthetics are made to make sure you are comfortable and happy with the esthetics of the teeth.  When you are healed, we can place your permanent, high-grade zirconia teeth, aesthetically designed, and fitted just for you. We adjust them as needed so that you have a fully aligned bite.
We do several bite adjustments over the upcoming weeks until your bite alignment is just right. This is an essential part of the procedure, as a misaligned bite can cause damage to your new teeth and make for uncomfortable chewing and TMJ pain. The bite must be evenly distributed for your new teeth to work optimally without causing undue stress on the implants.
See some of our Teeth in A Day/All on Four patients here