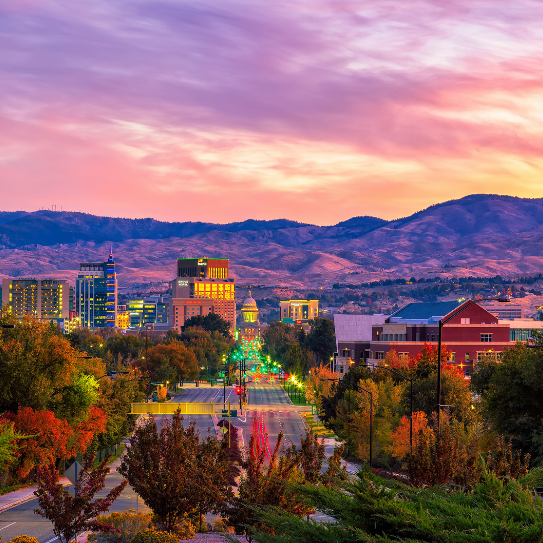 All About Boise
Boise, the vibrant capital city of Idaho, boasts a rich history that dates back to the early 19th century. Established by fur trappers and traders, the area around the Boise River became a significant meeting point for indigenous tribes and European settlers. The city's name derives from "La rivière boisée," French for "the wooded river," a nod to the lush surroundings. Boise's growth gained momentum during the gold rush era of the 1860s, as fortune-seekers flooded the region. 
Over the years, the city became a bustling center for agriculture, trade, and transportation, attracting settlers with promising opportunities. Today, Boise is a modern metropolis, preserving its heritage through historical landmarks, cultural institutions, and a strong sense of community. Its past continues to influence the city's vibrant spirit and welcoming character.
Living and Working in Boise, Idaho
Living and working in Boise today offers a unique and enticing experience. The city's strong economy, low cost of living, and abundant job opportunities make it an attractive destination for professionals and families alike. Job prospects are plentiful with a thriving tech industry, robust healthcare sector, and diverse businesses. Due to its proximity to scenic mountains and rivers, Boise's exceptional quality of life stems from its access to outdoor activities, including hiking, skiing, and biking. 
The city's vibrant downtown area is filled with eclectic restaurants, craft breweries, and cultural events, ensuring there's always something to explore. Additionally, Boise's friendly and tight-knit community fosters a warm and welcoming atmosphere, making it an ideal place to call home for those seeking a balance between career growth and a fulfilling lifestyle.
Boise Prosthodontics in Boise, Idaho
At Boise Prosthodontics, our passion lies in serving the beautiful Boise, Idaho community with top-notch prosthodontic care. We are dedicated to providing our patients exceptional dental solutions to restore their smiles and improve their oral health. Whether you need dental implants, crowns, bridges, or dentures, our team of skilled prosthodontists is here to help you achieve the confident, radiant smile you deserve. 
If you've been wondering, "Where can I get dental implants near me?" look no further. We offer state-of-the-art dental implant procedures in Boise, ensuring personalized care and lasting results. Our commitment to excellence and our genuine love for the people of Boise make us your trusted partner in achieving a beautiful, healthy smile. Visit us and experience the difference at Boise Prosthodontics!
Old Idaho Penitentiary Site Near Boise Prosthodontics
Located just an 18-minute drive from Boise Prosthodontics, the Old Idaho Penitentiary Site is a captivating destination that offers a fascinating glimpse into the history of Boise, Idaho. With its 30 historic buildings and engaging special exhibitions, the site invites visitors to embark on an enriching self-guided walking tour. Built in 1870, the Old Idaho Penitentiary is a poignant reminder of the region's past. It stands as one of only four territorial prisons accessible to the public today. Throughout its 101 years of operation, the site bore witness to dramatic escapes, notorious scandals, and the profound societal changes accompanying Boise's transition from a wild west outpost to a bustling mid-20th century capital city.
For those seeking a truly immersive historical experience, the Old Idaho Penitentiary Site provides an unparalleled journey through time. The proximity of this extraordinary destination to Boise Prosthodontics allows visitors to combine a memorable exploration of the past with excellent dental care. So, after indulging in the rich history of the Old Idaho Penitentiary, one can return to the present with a bright, confident smile, cherishing the memories and lessons learned from this unique and thought-provoking adventure.