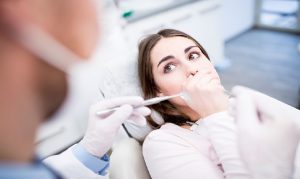 How to Tackle your Dental Anxiety
Do you feel anxious going to the dentist? Many patients who come to our office are in this situation and are subsequentially in our office due to neglect brought on by dental anxiety.  Dental anxiety can be experienced by anyone at any age. Dental anxiety can be a common phenomenon and can be caused by many factors. For instance, some individuals may have had a negative dental experience in the past, some may fear experiencing pain, others may develop fear due to a loved one's fear of the dentist, or even the stress may be caused by the financial costs of dental treatment.  You are not alone.  Most of our patients have been through similar situations and have the same concerns.
Dental anxiety can manifest as nervousness or stress prior to your dental visit, or trouble sleeping surrounding a dental appointment. In addition, some individuals may experience dental anxiety when certain dental materials are used, such as the drill or anesthetic needle. Some stress can even be triggered by the smell of the dental office.
Dental anxiety can lead people to avoid seeing the dentist and having necessary dental treatment performed. Consequently, when dental treatment is avoided, severe dental problems can arise which will also impact your overall health.
On the bright side, dental anxiety can be managed and overcome, and with the help of our office to plan a path for you to follow, you can get back to a beautiful and functional smile.
How our office can help
We think you will find our office quite different than most general dentists or surgeons.  We start off slowly by taking a step back and evaluating what your dental needs are.  We generally talk through all of your options, costs, and concerns before you even start your treatment.   Our #1 goal is to educate you on what is going on and what your options are.  No surprises.  That alone can dramatically reduce stress levels.  You will also be assigned a patient coordinator who will be there to answer questions, keep your whole dental team informed, coordinate all of your office visits and just keep an eye on your treatment.
How to deal with dental anxiety
One of the best ways to deal with dental anxiety is to inform your doctor of your fears and have an open discussion with them about your concerns. This way, the doctors or assistants can help make the environment more comfortable and make adjustments to meet your needs so that you can have a pleasant experience.
Know the procedures
Knowing more about the treatment that you need and what to expect can help make your appointment less stressful. Dr. Gurney or Dr. Jones can answer any questions or concerns that you may have. Communication with our office and doctors can make your experience more relaxing.
Bring company if you can
We highly suggest bringing company with you while your procedure is performed to help you feel more at ease. If unable to bring company inside, having them wait for you in the parking lot can also help relieve some anxiety knowing they are waiting for you once your procedure is completed.  We highly suggest someone you trust to come to all planning meetings.  You are emotionally attached to your teeth, and especially with anxiety, you may not hear your options as clearly or make the best decisions.
Music helps
Distraction methods such as listening to music with headphones while you're at the dentist can help move your focus from the procedure onto things and sounds that make you happy. Music will also drown out sounds that may trigger anxiety.
Sedation dentistry
Some procedures may be able to be performed with sedatives, taking into consideration certain factors. Talk with your dcotor to determine if options such as local anesthetics, nitrous oxide or "laughing gas", oral sedatives, or intravenous sedation are available and applicable to your procedure.
Use hand signals
Whenever you feel anxious or uncomfortable, a break may help. Talk to your doctor about using hand signals to communicate with them during a procedure to initiate when a break is needed.
Take medication if necessary
If experiencing intense fear or anxiety when visiting the dentist, talk with your health professional to see if medication is an option to help manage anxiety.
Read a book/ watch TV
Some offices have a television that can help shift your attention to relieve stress. Reading a book can also help lower your stress and keep your mind occupied on things other than the dental procedure.
Avoid caffeine before your visit
Say no to caffeine before your trip to the dentist, as caffeine can increase anxiety.
Follow a breathing exercise
Relaxation methods such as breathing exercises during dental procedures can be helpful. Try inhaling deep breaths and releasing them slowly to help relax your muscles and reduce stress levels.
Choose an appointment time that is less stressful
When making your next appointment, choose a time that works best for you where you won't be rushed or have a hectic day.
Get a solution!
Most patients anxiety is cause just by doing nothing!  It is so easy to go down a rabbit hole and get to a point where you give up.  It is easier to just hope that things will get better, but typically with dental issues, they will only get worse.  Taking the steps to move forward, creating a plan with an office you trust, and knowing you will be able to get away from the pain and expense of dental "patch work" will help you to conqure your anxiety.
If you have any questions or wish to set up a consultation, please feel free to reach out to our office anytime.  You may also email our new patient coordinator at [email protected] to ask questions. We are happy to help ease your fears and help you move forward to Smile Again, Eat Again, Live Again!