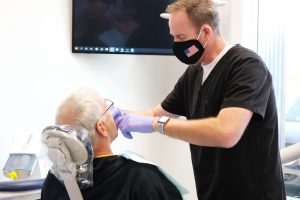 For the third year in a row, we celebrated National Prosthodontics Awareness Week by providing four local, deserving veterans new dentures. Three days after walking into our office for the first time, each veteran left with confidence, wearing a brand new smile that was uniquely designed just for him or her.
Our hearts are full as we reminisce on National Prosthodontics Awareness Week and this opportunity to share with these veterans a life-changing experience. Witnessing the moment they looked at themselves for the first time with their new smiles was both rewarding and humbling. The gratitude and emotion that they expressed was a gift far greater than anything we anticipated. Our goal is to grow our event every year so we can not only provide awareness, but continue to help those in need.
We offer a huge thank you to those who partnered with us to make this event a success!  Big thanks to Dr. Scott Bobst and the staff at Boise Oral Surgery for helping get the vets ready with surgery procedures.  Stephanie with Ivoclar Vivadent for providing supplies.  Our wonderful doctors, staff and lab worked hard, but the reward was well worth it.  Evan Summer at the American College of Prosthodontists helped get the word out about our wonderful event with an amazing feature article in the ACP Messenger . Mitzi Cheldelin at the Idaho Division of Veterans Services helped us find deserving vets and came to support us on the day of delivery.  Cindy L Patterson at Genesis Community Health for connecting us with a veteran.
As we continue to spread awareness of prosthodontics, we are reminded daily how truly fortunate we are to have the knowledge, skills, and networking team to provide confidence and quality of life to our patients.  
And of course, Veterans, thank you for your service to our nation. Thank you for the sacrifices you made and our willingness to serve our country. You endured hardships and you were willing to risk your life to maintain our freedom. On behalf of Boise Prosthodontics, we thank you!